The desperation of the country's Liberal Party and its supporters to demolish the Duterte administration once again left me in awe. From rallying western human rights advocates who are completely ignorant in our country's internal affairs and situation to intervene during the alleged EJKs to "boosting" their sorry excuse influencers, biased journalists, etc. and now to spewing Nazi-like ideologies towards Chinese people.
History has taught us how anger, fear, and bigotry lead to the holocaust the slaughter of millions of Jews during the second world war, it seems like members of the Liberal Party it's supporters and other groups didn't pay attention during history class.
Taho (soybean curd pudding) Incident in MRT
An isolated case sensationalized by our mainstream media and politicized by members of the infamous Liberal Party causing baseless anger across social media but wait! let's stop being hypocrites and ask ourselves when did the Filipino people really ever respected our police force?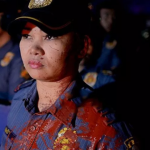 A female police officer covered with red paint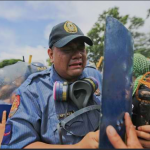 P01 Joselito Sevilla The Crying Police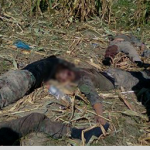 Bodies of slain members of SAF44
Before Rodrigo Duterte the Filipinos have a very bad stereotype towards members of the police force; from "kotong-cops", "pulis patola" etc. even previous holier than thou leaders of this nation never cared about them we all know what happened during the bloody Mamasapano clash so I find it really hard to believe that out of the "laylayan" Mrs. Leni Robredo would suddenly call this incident disrespectful towards all Filipinos, can someone please remind her how much we "respected" our own police force please?
She was so convinced to consider it a wake up call, but to what exactly? to overthrow Duterte and install her as the new President of the Philippine's first Reich and start a genocide towards the Filipino-Chinese living in the country?  I  do not know, what I am sure of is how she disrespected the victims of Hitler's genocide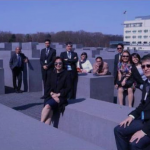 It does not stop there I almost puked on how ignorant she is regarding the attitude of some of our countrymen who are living overseas, I mean sure people migrate overseas sure can follow rules their host countries it's just sad that once they get back in the Philippines they go back to their "barriotic" attitude.
Here is a little secret about a man named Jericho Mori Lampano, on 2004 Mr. Lampano and his friends who are still at large kidnapped a 21-year old university student in Ibaraki then went on in raping then slaying her it was only in 2017 when he was apprehended in Narita Airport, yes he managed to evade Japanese Justice for that long, no Japanese official called it an insult nor disrespectful towards Japanese, no influencer calling out to kick Filipinos here just one genius Vice-President of the Banana Republic.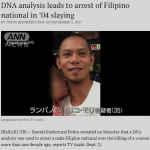 ( "pasikatin natin" coined out from Senator Villanueva during a Senate hearing: here )
If we follow her logic that throwing bean curd pudding is a sign of disrespect, maybe Japan should stop all ongoing projects with the country, right? I mean it's rape-slay not towards a policeman but towards a young university student think about it.
The Senate Panel Investigations
So 3 million Chinese entered the country, Yes this is indeed very alarming for a shit-hole country where a "strongman" style leadership is needed to make people clean up their beaches is truly surprising right?
This is a graph of foreigners entering Japan in 2018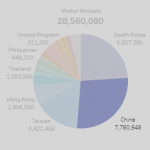 source: here
7 million "tsekwas" have visited Japan, the common reaction for any government official is to be happy for obvious reasons, Senator Joel Villanueva does not feel the same way when 3 million Chinese tourists entered the country and I am very worried. Is he planning to build walls in an island nation like the Philippines too and have China pay for it?
True, any nation should apprehend all illegal aliens in their country but for a country like the Philippines which has unique immigration laws for workers and tourists, people should be very cautious. 
The recent Senate discussion has revealed how easy it is to for foreigners to get a job in the country, all you need to do is secure an Alien Employment Permit and wait for an opening for any job which apparently requires being able to speak in Mandarin a feat which even graduates of prestigious universities in the country does not possess.
The available jobs are in areas such as administrative and support service activities, arts and entertainment and recreation, information and communication, manufacturing, and construction. Let's ask ourselves does the qualified applicants sit all day in the country and wait? No! they don't they go abroad and of all people, Mr. Tesda-Man should know.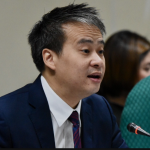 ( a tsekwa looking senator )
Dole and these state entities are doing an awesome job and I can stand firm in this observation, the Bureau of Immigration was able to apprehend 1508 foreigners who were either overstaying, wanted for heinous crimes, working without a permit, being undocumented, and undesirability if you would ask me someone in this bureau should get a raise or even be promoted for a job well done, for Senator Villanueva it was a lousy job.
These people reminded me how globalization failed, It's just sad and upsetting that during a harmonious bilateral relationship with Asia's growing superpower some people would really do anything whether it is to gain popularity, be relevant, or just to fulfill their job as the opposition, I do not know. 
The Philippines is developing fast, thanks to the unrelenting leadership of Rodrigo Duterte funny as it seems that the Filipinos needed one, but we aren't there yet! we need to tread carefully or risk remaining in this shit-hole we call country. Think!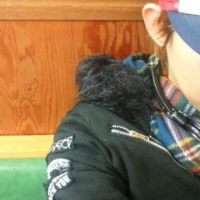 of mixed race, spending time living in both countries gives me a very good perspective on both.