A few days ago before we started our much awaited 10 day holiday also known as "Golden Week" our union in the company had a small meeting, we talked about how we have reached our targets, some areas where we need to improve, etc. After the meeting we all stood up and raised our fist and made our pledges to do our best for ourselves and our company, somehow it reminded me of my memories during my tertiary years.
It was circa 2005 when our university decided to have an increase in our tuition, this was hastily implemented without consulting with the parents and the student council, things like this is a big No-No for activists like us back then, but don't get me wrong back then activists doesn't necessarily mean that you are a communist/socialist! for me activism is just campaigning for some kind of change, may it be environmental, social, political etc. I'm a little bit disappointed on how kids these days consider themselves as activists but only keeps on pushing for communism or socialism, have you ever guys read about how the iconic Che Guevarra became the judge, executioner, and jury of Cuba after overthrowing the Batista regime? here: link let's save this for another story.
The news of the increase in our school fees quickly reached the ears of all activists, concerned groups, etc. it didn't take long for us to form picket lines at all gates of our uni, after a few days we took it outside the roads and other universities joined us we tried to contact the media but unfortunately our numbers weren't that great to make it to the national news, well that's what one of our "comrades" said. Days passed and we were no longer asking for our university to sit with us and discuss the increase, some of us were already waving the hammer and sickle banner, some have placards calling for the ouster of the current president, some have placards calling out to "kick out the American bases" out of the country, and then one placard caught my attention, it says "serve the people" a guy in his early 30's was carrying it wearing a bandana covering his face and a redshirt heck, he wasn't the only one in this age marching with us I just noticed that it was me and my friend Cid who were the only teenagers in this group so I quickly asked him to grab a smoke and sit at the side of the road, while smoking I realized that the only reason this dude is with me right now is because of me. I asked him and some of our buddies who were nowhere to come with me and "fight for our rights" honestly I felt guilty, very guilty.
Later that day I went to his boarding house and upon entering his room I saw this massive banner of a hammer and sickle on top of his bed, He saw me staring at it then asked me "Why aren't you attending the studies?" he explained that I have missed several already and they were about the "mass struggle" the current situation of the US dictatorship etc. hearing him talk made me realize what was going on with him, So I asked him what he think he is doing, he simply smiled and answered: "I am serving the people".
Cid isn't the person whom you could simply sway, he was the champion of our class debate competition and is really a smart person we both planned to go to law school someday and really serve the people but Cid dropped out I never saw him again after I finished university. 
Years passed and while we were having a team building in Baler, Aurora I noticed a middle-aged woman smiling at me with teary eyes so I approached her and I suddenly remembered her, she was Cid's mom the woman who would travel and visit his son miles and miles away just to check on him; I quickly raised the question about Cid's whereabouts and she just smiled again and told me that Cid was with his relatives in the mountains "serving the people". I knew what she meant and it gave chills down my spine I wasn't sure if Cid's mom was thankfully happy that he is with his relatives or angry and blaming me for what happened to him, I didn't dare ask. I never saw her again nor my pal Cid, I was only reminded of this chapter of my life a few days ago when I once again raised my fist in the air.
Cid, My friends during college and I believed that what we were doing was noble this was at the expense of all of those people who wanted us to become something more, I guess we all took for granted those people.
I have been seeing young people getting slain during clashes between the reds and our government's forces, knowing what these young men and women would've become if they stayed the course and tried fighting for a better situation using a different method than these self-proclaimed servants of people. I guess we will never know because most of them like Cid might be already six-feet under.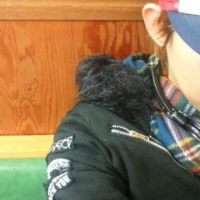 of mixed race, spending time living in both countries gives me a very good perspective on both.