I've been roaming around social media and I stumbled upon some opinions about the characteristics of the electorate. Primarily I wanted to just laugh on how bitter these "concerned citizens" are but in the end, I came to realize how contagious and disastrous these people can be in the nation-building and having those characteristics we should call them – CANCERS OF THE SOCIETY.
Here's why:
THEY CONFUSE PEOPLE
With their constant inconsistencies, they are continuously exposed as charlatans. Apparently, one of them is exposed to be just a paid blogger who was even featured as the greatest critique of the current administration, paid by who you ask? Well, this person was allegedly exposed during a fiasco among their ranks! here's the full story by Sass Rogando-Sasot : link It turns out she was "created" to help defend the former President Noy-Noy Aquino against his critics.
This blogger has thousands of followers who are unbelievably hardcore fanatics of her work, I recall her being really famous all thanks to the local media which brings us to the next reason 
POWERED by the MAINSTREAM MEDIA
I've counted several times these media personalities were awarded by the same people in their own circle for allegedly being "fearless" critics of the Duterte administration, only it turns out they are alleged "demolition squads" of foreign entities responsible for destabilizing democratic countries. Here is a link by Mr. Bobi Tiglao: link
 Yes, ladies and gentlemen! believe it or not no matter how backward and dirty our country is people out there are just simply trying to f*ck us up more! Is it the strategical importance of the location of our country? I do not know.
BLESSED by the CHURCH
"Religion is the opium of the people" a quotation from Karl Marx which is quite evident in our dysfunctional society from its continuous meddling in the affairs of the state to endorsing "good" candidates for any elections their power slowly faded, come to think of it should we blame them for Nietzsche's philosophy that "God is Dead", I think so! "GOD DIED and the YELLOWTARDS KILLED HIM! Let's face it people are turning away from their faith because of it being very partisan, I could even say that it's causing division more than promoting a sense of community so let me say it again and may any faithful read it:
GOD IS DEAD and the YELLOWTARDS KILLED HIM!!!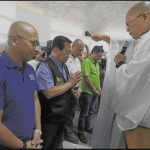 ENTITLEMENT and EDUCATIONAL ELITISM
There are several times where I see tweets, facebook posts, blog posts, etc. claiming to be people who are "FIGHTING for OUR RIGHTS", people who have the monopoly of goodness and righteousness, have they ever wondered that they shouldn't shove down somebody's throat their own ideas because it's not really polite?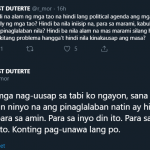 I had a certain chapter in my life where I used to attend protests, for my own selfish reasons like the increase in my university's tuition( I wasn't born in a privileged family despite having mixed races in my blood )  without prior consultation to the students and parents, the political dynasty in my hometown, the continuous harassment, and un-imaginable working conditions of my relatives who are working in the country's ginormous Hacienda Luisita.  Could you really blame me? But never in my life have I thought of fighting for other people's rights and more so, the entire country's! I've written articles, songs, poems calling out people, groups, and institutions from what I personally think is wrong and harmful but not once did the idea of fighting for a country crossed my mind nor asking for a little bit of understanding as what the picture above says, clearly if you agree with that tweet there is something terribly wrong.
"BOBOTANTE" or plain rotten, this is what some of the country's "highly-educated few" would call those who supported the Presidential daughter's Hugpong nang Pagbabago senatorial bet and all those Pro-Duterte senators, mind you these are the same people who identify themselves "champions of democracy", "freedom of expression advocates" etc. I would like to put a bit of reasoning on my chosen candidates, they are:
1. Angara, Edgardo Sonny – tax-free balikbayan boxes, free tertiary education law,  Magna-Carta of Women Law, etc. he is also a solid supporter of the Train Law and the war against illegal drugs
2. Prof. Toti Casino / Atty Glenn Chong – advocates of a cleaner election, and new blood in the Senate, I have seen the Senate hearings and clearly, something fishy is going on in our election! I was always dubious with the results of our municipal level election, 18 years of one family's reign no matter how many people "dislike" them they still end up as the victors it really makes you wonder how right?. With these gentlemen in the Senate, we can finally find out what's going on.
3. Dela Rosa, Bato  – The champion and the protector we need against criminals, drug-peddlers, etc. He promised to bring back Death-Penalty and ROTC which will strengthen the country and its foundations against those who wants to destroy it.
4. Ejercito Estrada JV – 140 bills and resolution and the champion of the Universal Healthcare bill think of giving this man another 6 years.
5. Gadon, Larry – Reducing the cost of the electric bill, free education for all! and one of the most vocal senatorial candidate who detests the "Aquino's are Heroes" baloney.
6. Mangudadatu, Dong – I based my decision to vote for this gentleman because of how he governed one of the most dangerous provinces in the country, Maguindanao. A trillion pesos worth of Oil in the Liguasan marsh was discovered by this man and he vows to promote it once given a seat. His discovery was already brought forward during the previous administration but was allegedly kept under the rug, If we put this man in the Senate he can make a law developing and promoting the Liguasan Marsh.
It's been 10 years since the massacre of his family, he was patient and refused to take justice in his hands, I think this is amazing and truly remarkable something we should consider when choosing leaders someday.
7.  Manicad, Jiggy – One of the country's veteran journalist, he has seen the country literally, from the clashes between militants and government forces, insurgencies in Mindanao, etc. I seriously think this man could do better than Senator Grace Poe once seated as the committee chairman on Public Information and Mass Media.
8. Marcos, Imee – If you've been to her hometown you'd understand why I chose her, from developing the tourism sector, providing jobs, scholarships etc. she's done it! another reason why I chose her is because of she and her brother BBM found a way to solve the electric deficiency of her hometown, they developed safe and renewable sources such as the Bangui Wind Farm something that I wish Japan could adopt.
9. Ong, Willie – I've been following his Facebook page way back and I can tell this guy's passion is helping people with his profession. If there is any other way to describe him, it would be he is truly serving the people.
10. Tolentino, Francis – A very capable senator to be, He promises to provide meaningful laws for the Filipino people, his track record would show that not even one case was filed against him in the Ombudsman, even PRRD gave good reactions towards this man. A silent worker, the author of several books, taught in several law schools, etc. no question for this man! I voted for him before I will vote for him again.
11. Villar, Cynthia – One of the advantages of our country against countries such as Korea, and Japan is the area of land where farmers could plant, however, we lack the technology my father told me this years ago before he was still with us. We were exporting farm products from the Philippines to Japan, and it was really very hard time since the country relies on old methods of farming as compared to the two countries this Senator has this vision of building a country who would allow us to compete and increase our productivity.
I chose people who can uplift the lives of common Filipinos and this is by voting people who have concrete plans to solve our power crisis, revolutionize farming, people who are really passionate about helping people, people who can tell the truth without violating our freedom to speak, people who value the integrity of our way to exercise democracy, people who can work diligently without praise, people who are ready to protect us.
If these choices make me rotten, or a "BOBOTANTE" I wonder what should we call these people who chose mediocrity over performance and concrete plans?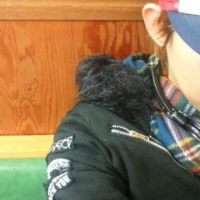 of mixed race, spending time living in both countries gives me a very good perspective on both.